Guide to Rear Cross Traffic Warning and Backup Cameras
These systems show you what you wouldn't otherwise be able to see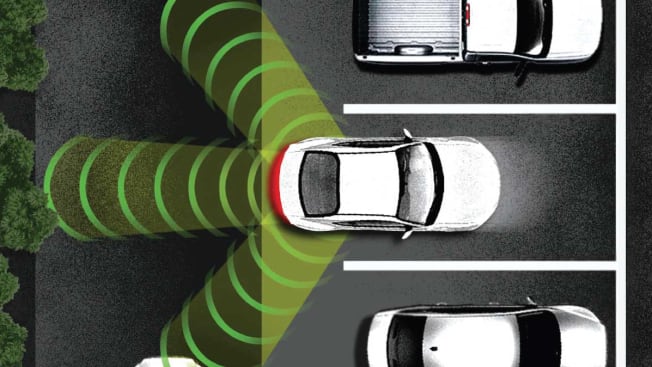 "I never thought I needed a backup camera . . . until I had one," the owner of a 2021 Acura ILX told CR. Based on a recent CR survey, plenty of other drivers agree: Two of the advanced safety systems that our members love the most work as an extra set of eyes when the car is in Reverse.
Backup camera: Displays the area behind the vehicle when in reverse gear.
Surround View Camera: Displays the immediate surroundings of some or all sides of the vehicle while stopped or during low speed maneuvers.
Rear cross traffic warning (RCTW): Detects vehicles approaching from the side at the rear of the vehicle while in reverse gear and alerts the driver. Some systems also warn for pedestrians or other objects.
Rear Cross Traffic Warning (RCTW)
What Makes a Good System?
Every system is different, which is why Kelly Funkhouser, manager for vehicle technology at CR, recommends taking a portion of your test drive in reverse. "You'll see whether the camera has colored guidelines that show where the vehicle is headed or how close it is to objects around your car. We're seeing newer cars that even offer additional camera views that work best for tight parking spaces and even when moving forward," she says. Some cars have an added audible alert for when a car nears an obstruction, while others might even have rear automatic emergency braking to help prevent a collision.
Sometimes the camera makes up for a design deficiency of a vehicle itself. An owner of a 2018 Jaguar F-Type told CR that "it is very difficult to see out the back of this car so this feature and the backup camera are essential." A driver who often carries large loads in the back of their Ford F-150 pickup truck agrees, as their view out the back window is frequently blocked by what they're carrying.
And then there's the ease of not having to swivel your head as often.
"At age 77, turning one's neck is harder and the system shows me any potential danger and where it's coming from on the backup camera," the owner of a 2021 Toyota Highlander wrote. A 2018 Subaru Forester driver offered a similar evaluation. "As I get older I am less flexible looking around behind me and depend on the warning and backup camera," they said.
There's even more praise for RCTW.
"There are times when there is a lot of traffic or blind spots that don't allow good visibility to traffic crossing in the rear or pedestrians walking behind the car," says the owner of one Mazda CX-5. "The system alerts me to those situations so that I may avoid them."
"This is the greatest feature of all of the safety devices on this car," says the owner of a 2020 Subaru Forester. "Without this feature, when you are backing up you are totally in the dark, especially if you are in a crowded area, obstructed by a van or a large truck. This has been a game changer for me. I would never buy another vehicle without this feature!"
The owner of one of those large trucks—a Ford F-350—also has praise for the system. "​​This truck is big. Parking can be tight on the sides," they told CR. "[RCTW] is a big plus because it has often warned me about rear traffic that I simply didn't see while backing up."
CR's take: Backup cameras and RCTW systems are helpful in increasing the driver's view into hard-to-see or obstructed areas. But drivers shouldn't rely on just the system; they still need to turn their head, check their side mirrors, and look out windows for objects that may be out of range of the camera or sensors. Drivers have complained about occasional false alerts from the systems that warn them or brake for them—especially systems that also include rear AEB. And drivers have been surprised by warning beeps when they can't see anything, or when the car brakes unexpectedly.
Brand Names for Rear Safety Systems
CR, AAA, J.D. Power, and the National Safety Council have agreed on standardized, specific names for individual safety systems in order to reduce confusion and improve consumer understanding of what they do. Still, manufacturers often use their own names for these systems. These are some of the names that automakers use or have used for rear safety systems:
Acura: Rear cross traffic monitor
Alfa Romeo: Rear cross path detection, Cross path detection
Audi: Rear cross traffic assist, Cross traffic assist rear
BMW: Rear cross traffic alert
Buick: Rear cross traffic alert
Cadillac: Rear cross-traffic alert
Chevrolet: Rear cross traffic alert
Chrysler: Rear cross path detection
Fiat: Rear cross path detection
Ford: Cross traffic alert
Genesis: Rear cross traffic collision warning
GMC: Rear cross-traffic alert
Honda: Cross traffic monitor
Hyundai: Rear cross-traffic collision alert
Infiniti: Backup collision intervention
Jeep: Rear cross path detection
Kia: Rear cross traffic collision warning (RCCW)
Lexus: Rear cross traffic braking system
Lincoln: Cross traffic alert
Mazda: Rear cross traffic alert
Mercedes-Benz: Rear-cross traffic assist
Mitsubishi: Rear cross traffic alert
Nissan: Rear cross traffic alert
Porsche: Rear Cross Traffic Alert
Subaru: Rear-cross traffic alert
Toyota: Rear-cross traffic alert
Volkswagen: Rear traffic alert
Volvo: Cross traffic alert